Ok Here's The Deal, Zonestraits.com is a free domain hosting site. And here's how to change your blog from blogspot to one of zonestraits' domain names.



I Have Made A Blog , Which Is http://jokesformore.blogspot.com/ Using Blogger.com,
but its too long with the blogspot.com. So By Using zonestraits.com, I Have More Domain Names To Choose From, like myblog.via.my and myblog.ha.it.my.

Firstly
Register Your Self At zonestraits.com And Pick Your Domain Name. I Choose jokes.via.my for this example.





After Your Registration Is Complete,
Click On Domain(s) tab and click on your domain name. Then Pick Zone Management - A, AAAA, MX, CNAME & TXT Resource Records.Then Click Save Service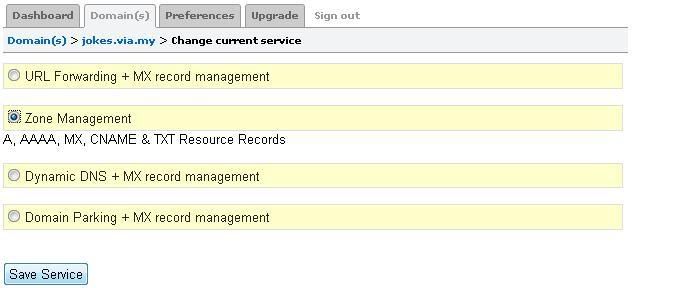 In The DNS Management,
In the Type Menu, Pick CNAME (Canonical Name) and in the Data Section put ghs.google.com and finally click Add record.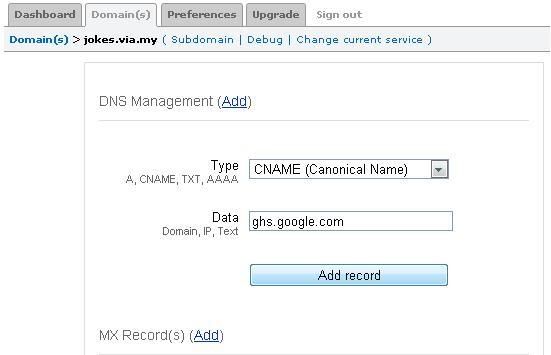 Lets Move On To The Next Step,
Log On To Your blogger.com and click on Setting then Publishing. From There Click On Switch to: • Custom Domain




Click On The Switch to advance setting




Then Type In Your New Domain. Mine Is jokes.via.my




Type In the Word Verification and click save and Your Done!

+Please Rate This Post And Recommend To Your Fellow Friends!


Source:Tutorial menggunakan domain percuma dari zonestraits untuk blogspot